Organising a Candlelight Event?
Concerned about all the problems it may bring, including:
Dangerous Flames
Hot Dripping Wax
Public Liability Costs
and the list continues...
Now you can reduce the risks without sacrificing the bright, magical atmosphere that a traditional burning candle could only once provide.
Glowstix Australia is proud to release a new and exciting choice of exceptional quality battery operated candles.
Candlelite candles are designed to be hand held at events such as carols by candlelight or in a choir or concert etc.They can also be useful as a decorative candle for use with candelabra for special functions such as weddings or formal dinners.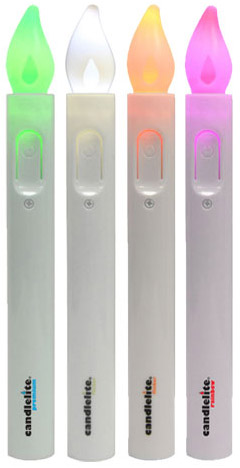 The size of each candle is 19cm x 2cm